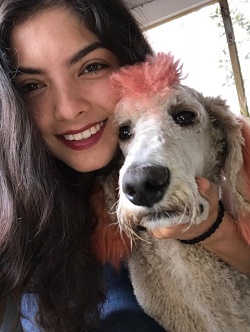 Angelica has had a passion for animals since before she could even remember. At 18 months old, she sat and waited for hours for her first pet to emerge from hiding beneath a deck, because that was the kitten she knew would be her best friend for the next many years. Her love and respect for her beloved Po sparked a passion for all animals as she learned the responsibilities of pet ownership from a young age.
Angelica remembers always playing pet and vet games as a child and even had a slight obsession for caring for virtual pets. Her mother is a naturopathic doctor and she practically grew up in the office learning about health and wellness, and has always had a desire to care for the well-being of people and animals alike.
Getting out of high school, she knew it was only natural for her to pursue a career with animals, and when she found Animal Behavior College online.
She started her pet grooming course and got her certification, and soon after that completed a certification in cat behavior and training. She spent three months at her grooming externship in San Antonio, Texas, happily working unpaid hours just to learn and later was hired on and worked for ten months until she relocated to Florida.
Upon finding TenderCare, she looked no further as it seemed to be her dream job. She is excited to be a part of the team and strives to grow a real bond with all her clients, furry and otherwise.