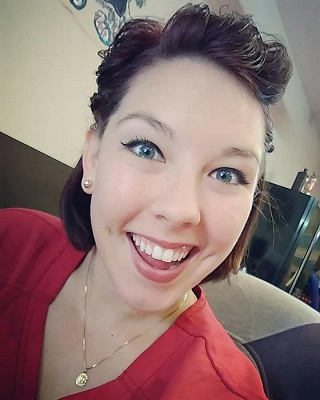 Say hello to our groomer Miranda Baron! Miranda has been a great part of TenderCare Dog Grooming for a year now; though her grooming experience started many years ago in her hometown Syracuse, New York.
At only 16 years old, Miranda took her passion and love of animals to her first job and began bathing dogs. After years of working the summers with dogs and pursuing her hobby of working with horses, at the age of 18, she moved to the bluegrass state of Kentucky by herself with just her horse and one large U-Haul of belongings and began pursuing her passions full time.
Over the past couple years, Miranda's love and dedication for animals has not only brought her from state to state, but also out of country in 2015 to Cairo, Egypt for the summer where she got to work as an equine veterinary technician. Miranda was recognized and recommended for such an adventure with a well known Equine Veterinarian due to her desire to always continuing learning and perseverance in the equine field. Meanwhile in Kentucky, Miranda was able to learn about the overall veterinary, boarding, and general care for dogs and horses.
Fortunately for TenderCare, Miranda's love for our furry four-legged friends had become her focus of attention, as she moved to Florida in 2016 to continue to create the holistic and supporting lifestyle she seeks, this time surrounded by friends and family.
From dog sitting, to bathing and grooming friends and families' dogs at the comfort of their own home-over the past 10 years, it is no coincidence that Miranda's gentle nature and goal-achieving mindset had walked in the doors of TenderCare Dog Grooming April 2017. With the weight of the world on her shoulders, and her own expectations for success on her mind, it was almost comical how serious Miranda was within her first few months.
Once she realized how TenderCare caters to our clients within a calm atmosphere, one family at a time per groomer, an open viewing area, client-groomer interaction, and holistic alternatives to providing the safest and best care for our dogs here, Miranda was able to step into the reality she's dreamed of and prepared for thus far.
We have pursued continuing education, grooming workshops and seminars here in Florida to always keep learning and find the best, most efficient and effective ways of providing grooming services to our dogs as we can. With owner-stay clients, dedicated owners who regularly maintain the care of their pups and continue scheduling in advance, we are blessed that Miranda now has clients of her own who they and their pups are eager to greet at the door.
Thank you for your on-going support and welcoming of Miranda here at TenderCare Dog Grooming, we have full confidence that she will achieve any career-based goals she seeks and will transform her life into the reality she's dreamed of, as she already has begun to do so. We highly encourage you to set up your pup's first appointment here with Maria or Miranda, knowing they will have the ultimate care they deserve whether it be their 1st or 40th groom, it's never too late to take the chance to be a part of your furry family friends grooming experience!